Alconbury Links
I was stationed at RAF Alconbury from 1978-1980.
A larger map with other items identified is here:
Larger map
RAF Alconbury is located just north of Huntingdon. Huntingdon is about an hour train ride north of London.
you can play around with the map to get an idea of where Alconbury is.
The marker is at the front gate. A little to the left, you can see an F5E that may be familiar to you by the time you get done viewing this page.
When I was stationed at Alconbury, they had a squadron of RF4Cs. The RF4C was a reconnaissance aircraft. They took an F4C, and instead of weapons, outfitted it with cameras.
Here are some
recon photos
. There were taken by RB-66s that were assigned to the 10th TRW
Group photo taken at Aviano AB Italy during TDY Oct 1979
~500k
In addition to the RF4C, Alconbury also had the 527th Agressor Squadron.
The F5E was the aircraft the aggressors flew. Their mission was to train NATO pilots for dog-fighting against the Soviet Union.
Anybody have an pic of an F5E I can use? This isn't real, it's a photo of a life size model.
Tail number 382 that was stationed at RAF Alconbury. click for larger image
photo courtesy of
http://www.sentry.hangar1.net/
There's a web page for folks that have been stationed at Alconbury. If you were there and would like details about the site, feel free to email me. alconbury@pcfubar.net
Looking for any Alconbury related stuff to put on this site.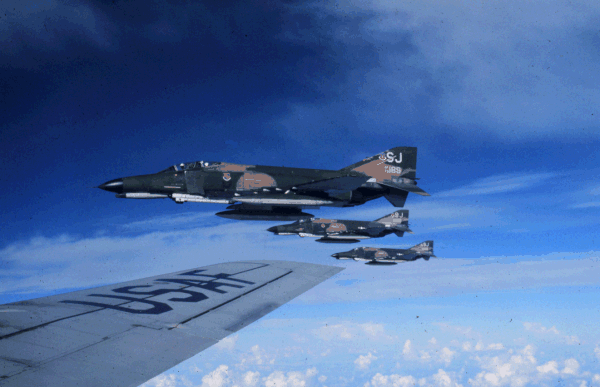 Not from Alconbury, but hey.
Seymour Johnson AFB. Tail number 73-189,??-166?
Photo taken by Me, June 1977 during refueling over Gulf of Mexico. If you use it, please give credit.
www.PhantomPhixers.com
site for anything phantoms.
Lamberts Luftwaffe, 10th AMS Barracks Rats forum
email me: roger AT pcfubar.net with any questions.